No doubt about it, this new season brings renewal in many forms! Terraces are open and packed with families/friends gathering together. Birds and other urban wildlife (hedgehogs!) are growing more active and preparing for a busy summer ahead. The snow is melting from the mountaintops ringing Geneva while Mother Nature is showcasing her beautiful colors with flowers.*
Tulips, irises, narcissus. Is there a better symbol of renewal, optimism, inspiration and beauty? Each spring, the countryside and promenades surrounding Morges VD (just 40 minutes by car/train from Geneva) showcase many varieties of gorgeous blooms. 
Don't miss your chance to visit! The most famous of the festivals, the Morges Tulip Festival, draws to a close this coming weekend (Sunday, 9 May, also Mother's Day!) The festival aims to make this year its 50th bis, as last year's 50th anniversary was sidelined by COVID-19.  Many of the events planned for 2020 (a sound and light show, a walk through the ~145K tulips, a large canteen) will take place this year (or in 2022) instead.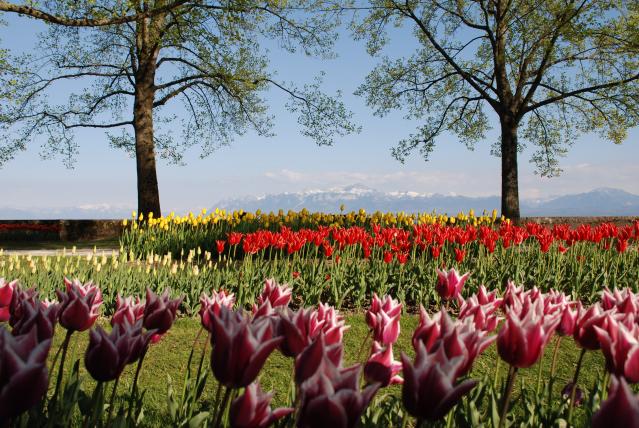 The Tulip Festival takes place at the lakeside Parc de l'Indépendance in Morges. A 10-minute walk from the Morges train station, the park is open at all times and the festival is free of charge. Care to flex your green thumb with tulips of your own? Then don't miss the festival's bulb sale taking place on Tuesday, 11 May, 10:00 – 17:00. For a minimum of CHF 10, you can take home your very own 'surprise' bag of bulbs to plant this fall in your garden.
Don't miss other floral-centered events, including the Narcissus trails, the Dahlia Festival (July – October), and visits to the Vullierens Gardens (May-October).  For all the details, visit www.morges-tourisme.ch.  And one last thing, don't forget your camera!
*Partially reprinted from the Spring 2021 AIWC Courier Magazine.
We are a group of international women living in Geneva, Switzerland. If you would like to learn more about our activities and excursions, visit our website at  http://www.aiwcgeneva.org/