So what's the story of the pink tram…. Or Monochrome Rose to give her her real title?
Four communes – Lancy, Onex, Confignon and Bernex – crossed by the tram 14 and the Canton of Geneva inaugurated Art & Tram (a public art project) in 2009.
There are a number of public art displays on these routes one of which is the pink tram itself… Designed by Pipilotti Rist, this mobile work of art, which also travels on other tram routes, is the 'monochromatic nomad in the heart of the city' changing the way we view the city as it passes through.  It is always intended as a surprise as to when it next pops up on your tram route as it is unpredictable and no one knows where next it will be spotted. And of course it is pink inside as well as out!
Another of the Art & Tram installations is in the Place des Deux-Églises in Onex.  Here the artist Ugo Rondinone designed a monumental sculpture ten meters high representing a human figure. English readers might recognise the inspiration for this work as coming from Stonehenge.
The figure called 'the wise', created in very rough hewn granite, is composed of two long legs without joints, a trunk but no arms arms and a head with no face.  Its legs are apart offering a cool gateway to Brot Park behind.
My favourite however are the wacky lamp posts all along the Route de Chancy in Confignon.  Eleven of the sixty lampposts along this road have been transformed into sculptures but still function as street lighting and support the overhead wires for the tram.   Some of them are twisted, one is bent back on itself, some misshaped but each totally unexpected and impossible. The best thing about it is the number of calls the TPG have had suggesting lamp posts have been hit by cars and damaged!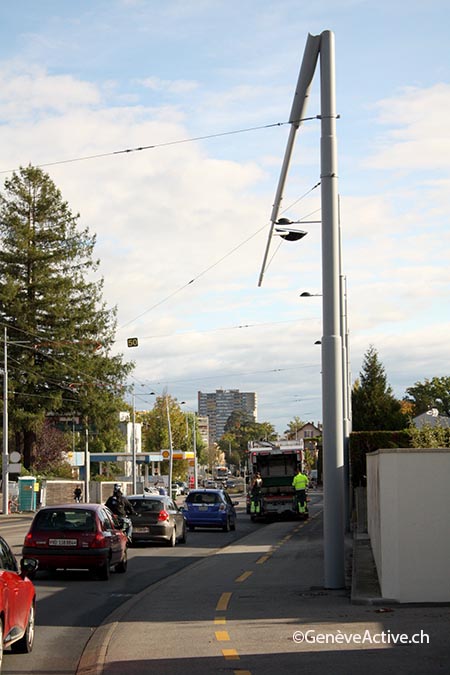 For more information of the six art projects visit the Art & Tram website here.
We are a group of international women living in Geneva, Switzerland. If you would like to learn more about our activities and excursions, visit our website at www. aiwcgeneva.org.