A group of us AIWC women got together to share ideas about how to entertain summer guests both locally and further afield. All it took was some coffee and carrot cake and we came up with three blogs that should fill your summer schedule.
So we covered things to do here in Geneva and day trips within the country – what about those looking to explore over the border? Here are a couple of ideas for day trips into neighbouring France and Italy.
Really Local
Try a cable car ride up the Saleve for a fabulous view of the Geneva area as well as short and longer walks which are well signposted. Or a 30 minute drive to Yvoire to see a 'Disney' medieval lake side village complete with a castle and the Garden of 5 Senses where you can indeed taste, smell, touch, listen and see the beauty of nature. On a Sunday visit the Divonne market, purchase your picnic there then walk around the Divonne lake to find that perfect lunch spot.
Slightly further afield:
Take off to Annecy for a boat trip, book a Segway tour, wander along the canals and find a lunch spot; or continue on by car or bike to Talloires, another picture perfect village where you can take a trail to the Cascade D'Angon. You can also stay on Lac Leman and head to Evian for a visit to the source of the spring water, promenade lake side or visit the Evian bottling factory.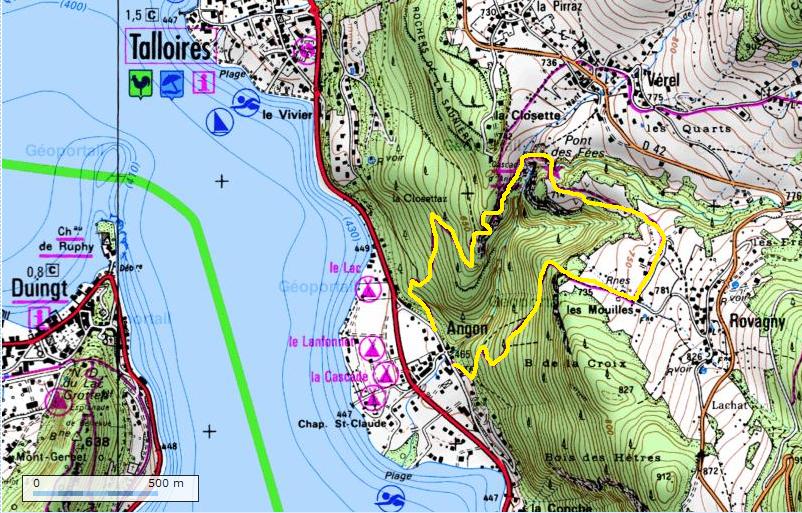 For those more interested in the majestic countryside driving to Chamonix takes less than an hour. This is truly one of the most beautiful places on earth. Take a trip up to the Aiguille du Midi and Step into the Void with the new glass walkway. Not so keen to ride up to 3482 meters? Then walk inside the glacier having taken the train to Mer de Glace or just have a coffee at the coffee shop at the top of the Bosson chairlift for a less touristy experience. For children, the summer sledding is a lot of fun near the train station.
Just the next valley over is home to Sixt Fer-a Chaval – this is a nature reserve just beyond Samoens and offers the most spectacular walks alongside too many waterfalls to count.
For those looking to travel a little further, day trips to a number of cities are an option.
Always check at the train station if you are intending to go by train as there are often deals to be had!
Lyon can be reached in less than 2 hours. The second city in France and home to many amazing restaurants and Les Puces Du Canal – the biggest flea market in Europe. The boat trip is fabulous as are the Basilica and roman ruins.
Milan takes 3 hours by train and on arrival a bus or walking tour might be an option. In any case things not to be missed include the Duomo (cathedral) and of course climb to the roof where you can enjoy a picnic, view Leonardo's Last Supper (tickets must be purchased to join a tour), pop into La Scala to have your picture taken in one of the boxes and visit the museum with its collection of opera sets and costumes. Milan is known for its fashion and leather so you might want to take some time to look for shoes, belts and handbags.
Another idea from a member who has since left is a Day Trip to the Burgundy Wine Region.
Enjoy your guests and your summer!
We are a group of international women living in Geneva, Switzerland. If you would like to join the AIWC, please visit our website at http://www.aiwcgeneva.org/